Hairstyles to Suit Male Face Shapes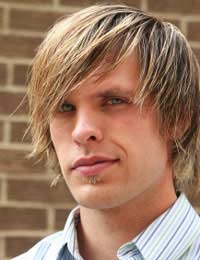 A man's face shape is important when it comes to ascertaining the most flattering cut and hairstyle. Of course, if a customer knows the type of cut he wants the barber should follow his instructions, but many customers will ask for advice on the types of styles that will suit them and the barber should be in a position to give guidance.
Just as there are certain clothes that suit certain body shapes, so there are certain haircuts that suit certain face shapes. By changing hairstyle and, in some instances, facial hair, a man can place extra emphasis on his best features or disguise his flaws.
Common men's face shapes include square, round, oval, oblong, triangular, pear and diamond. Many men have a predominantly square face shape and this shape can be enhanced by a flat top or messy spike style, short and lean sides and clean, squared-off corners around the ears. One option to soften a square-shaped face is an all-over but close-clipped beard and complementary haircut.
Round Face Shape
The objective with a round face is to find a style that makes the face appear more slender, so steer clear of full or round cuts that will have the opposite effect. More square hairstyles are a better option and keep the sides short and lean with the hair higher at the top and front. Waves or curls at eye level or an off-centre parting can help to disguise a full face. As far as facial hair goes, avoid strong sideburns but consider a modern chin beard.
An oval shape is widely considered to be the ideal face shape and almost any hairstyle will suit an oval face. When a face is more oblong than oval, however, suggest a layered cut with a blurred hairline. Keep hair longer on the sides and short on top to make the face appear shorter and less angular.
With a triangular-shaped face it is important to avoid any style that will accentuate the pointed chin. Keep hair cropped close near the temples and at the crown and a little longer and fuller at the back. A full beard will add weight along the jaw line and the chin to make triangular faces appear more masculine.
Work On the Fringe
A deep, full fringe works well with a diamond-shaped face, as it makes the top of the head appear broader and softens the pointed forehead. To add width to a diamond-shaped face, try a one-length cut at the back and to disguise the prominent chin suggest a full beard trimmed into a square or rounded shape.
Hairstyles that are full around the temples and at the crown can give a more balanced look to a pear-shaped face. Try short but full hairstyles that end directly above the jaw to give more definition to the jaw area.
With all face shapes it is important to pay close attention to other factors, such as the position of the ears and eyes, size and shape of the nose and length of the neck. It can be a little daunting at first when choosing a hairstyle to complement not only the face shape but also facial features, but the task becomes easier with experience.
You might also like...