Workplace Standards for a Barber Shop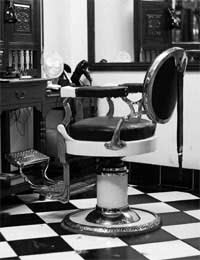 It is best to make the barber shop as welcoming and comfortable as finances will allow. This is important to attract customers and keep them coming back and will also help to keep staff satisfied. At the very least, the workplace must meet basic standards of comfort and sanitation. That means:
Toilets have to be clean and in good working order. It is acceptable for facilities to be mixed as long as they are enclosed and lockable from the inside.
Hot and cold or warm water, soap and towels or a hand-dryer must be made available.
There has to be a supply of mains drinking water or, where it cannot be obtained directly from a mains supply, water in refillable containers.
The workplace has to be cleaned regularly.
There has to be sufficient space and ventilation for staff to work comfortably.
The temperature has to be at least 16 degrees Celsius if employees are seated or do not have to move much, or 13 degrees Celsius where employees are active, as they should be in a busy barber shop.
Ensure the shop is adequately ventilated. Clean air from outside must be circulated around the workplace and humidity maintained at comfortable levels. Often opening windows and doors is enough, although ensure they can be opened without letting in dust and fumes. If the shop needs more clean air circulating, consider installing a stand-alone air-conditioning unit or a simple desktop fan.
Of course, it is now illegal to smoke in a workplace, so ensure employees and customers know the barber shop is smoke free. Display no-smoking signs at every public and staff entrance and beware that failure to prevent smoking on the premises can lead to a substantial fine. Consider providing a space outside the workplace where employees and customers can smoke legally, such as an outside shelter. If an employee smokes, it may be an option to offer support to help them give up.
Highlight Hazards
Safety standards must be up to scratch in the workplace, so carry out a thorough risk assessment. Put up signs to remind employees and warn customers about particular hazards in the shop. For instance, at stairs place a sign warning people to be careful of their footing. Other signs are needed to direct people towards emergency exits or the nearest first-aid facilities or equipment.
Always pay particular attention to the requirements of disabled employees or customers using the premises. Provide directions for any special facilities, like wheelchair ramps, that are on site. Remember that the business must identify any barriers to access for disabled people and, where possible, remove them.
Carry out a fire drill at least once a year and, in order to get a realistic idea of how effective the barber shop's evacuation plans are, do not announce drills. Everyone in the workplace must participate and log the result of each fire drill. For safety reasons, all employees must know what to do in the event of a fire. This includes how to raise the alarm, contact the fire brigade and use the shop's fire fighting equipment, and where to evacuate the building and assemble.
You might also like...
Private and confidential- without prejudice.Today I was mistreated in a Barbers shop . I felt a lack of courtesy and respect. I felt the place was badly managed. They were slightly rude. Can we introduce better monitoring and standards. Thank you.
Slider
- 28-Nov-15 @ 1:15 AM