Choosing Full-Time or Part-Time Staff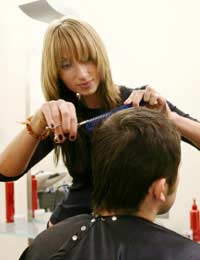 When recruiting permanent members of staff, it is important to consider how much work there is to be done. Get the staffing levels wrong and it can seriously damage a new business. Too few employees will result in lengthy delays for customers and, ultimately, lost sales, but too much manpower can result in expensive employees sitting around with nothing to do but eat into the profits.
Permanent employees can be full-time or part-time and will have an open-ended employment contract with the business. An employer has obligations to his permanent members of staff – regardless of whether they are full-time or part-time – but choose the right people and it will be a worthwhile investment in the business.
If a barber shop recruits temporary staff from an employment agency, customers can be put off by the lack of continuity. Many men will go to the same barbers to have their hair cut by the same person every time and this can only happen if the shop employs permanent staff.
Gauge Staffing Levels
The type of worker the business needs will depend on factors such as the number of hours of work available each week, how constant the work is and how long it will last. When trying to gauge the required staffing levels, do not be afraid to consider a mix of full-time and part-time staff. Full-time employees can be there to ensure the shop is open for business throughout the week, whereas part-time workers can add to the workforce at busier times.
Many small businesses find that recruiting part-time staff is an effective way to keep costs down in areas where there is no need for full-time cover. It can also build in flexibility so that the barbers can respond to changes in demand. It is important that any part-time workers are treated the same way as full-time workers. Any treatment that puts part-timers at a disadvantage risks a complaint to an employment tribunal or, as the majority of part-time employees are women, could lead to a claim of indirect sex discrimination.
Employers must give permanent employees a written statement of the main terms and conditions of their contract of employment, as well as an itemised pay statement at or before the time of payment. The working environment must be safe and secure and there has to be insurance in place to protect against claims for any illnesses, injuries or diseases employees may pick up as a result of working for the business.
Responsibilities to Employees
Employees will be entitled to a minimum level of paid holiday, a maximum length of a working week and minimum levels of rest breaks. They must be paid at least the National Minimum Wage and if off work sick for more than three days, will be entitled to statutory sick pay. The business has to register as an employer with HM Revenue & Customs (HMRC) to set up a payroll, deducting tax and National Insurance contributions from employees' pay and forwarding the money to HMRC.
A pregnant employee, or one about to become a dad, will be entitled to maternity, paternity or adoption leave and parental leave during the first five years of their child's life. Serious consideration must be given to any requests from parents with children under six to work more flexibly hours. Employers are obliged to treat staff fairly and avoid discrimination. If things do go wrong, all employees are entitled to fair treatment, whether dismissed, made redundant or if the business is sold.
You might also like...
I find it really hard to get staff as no one out there
Paul
- 11-Nov-16 @ 11:32 PM