Making Barber Shop Employees Redundant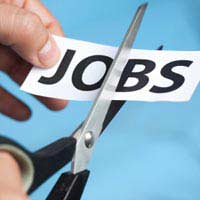 Every barber shop that employs people must face up to the possibility that one day it may be necessary to make someone redundant. Most business owners will cringe at the thought, but sometimes it is inevitable.
It can be incredibly difficult to break up a team that has been carefully built and nurtured, but when times are tough the only option may be to reduce costs. The alternative could be the barber shop going out of business – and that would put everyone out of a job.
For a barber shop the wage bill is by far the biggest expense, so losing a member of staff can often be the only way to get through a rough patch. Redundancy is not only extremely unpleasant, it is also legally complicated, so as soon as there are signs that the business is in trouble it is important to get advice and make changes quickly.
Look At Alternatives
Make sure you look at all the possible alternatives to redundancy. Most members of staff would rather take a small pay cut than lose their job altogether, or maybe it is possible to temporarily reduce working hours. If after examining the alternatives redundancy is inevitable, be sure to get legal advice. Although redundancy is a legal reason for dismissing a member of staff, it has to be done in the right way else the business owner may face an employment tribunal.
Voluntary redundancy can be less demoralising for staff, less disruptive and is legally less complicated. It can be more expensive for the business however, as often it is the longer-serving members of staff – those entitles to a higher settlement payment – who volunteer.
Compulsory redundancy gives the barber shop owner more control, but an employer cannot make a subjective selection. Instead a number of criteria are used to select employees. These may include skills and qualifications, performance at work, adaptability and attendance and discipline.
Redundancy Payment
Employees who have worked for the barber shop for at least two years may be legally entitled to a redundancy payment. This will be based on their pay, age and length of continuous service.
Don't forget to keep the employees informed. Let them know why redundancies are necessary and how they will be selected. Let the whole staff know, not just those selected for redundancy, otherwise workplace gossip will mean everyone will know soon enough anyway.
It is extremely tough to tell people they have been selected for redundancy, so try to handle it in a sensitive manner. Let the employee know why their job is being made redundant, what the selection criteria was, how much they will be due in terms of redundancy payment and the timing of their departure. Try to be as supportive as possible and let employees have time off to attend interviews.
By following sound legal advice and treating staff with respect at all times, what is undoubtedly an unpleasant process can be dealt with sensitively and efficiently and give the barber shop a chance to see out the tough times and bounce back.
You might also like...
I'm looking for barbers my shop is new malden surrey 5 coombe road
Se Myung Ji
- 17-Aug-14 @ 3:55 PM