The History of Shaving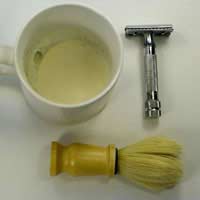 A man's facial hair will grow between 125 and 150 millimetres every year. There are around 25,000 of them and on average a man will spend more than 3,000 hours (that's 125 days) of his life shaving.
Anyone who thinks shaving is a relatively new phenomenon is way off the mark, because Neanderthals were shaving in the Stone Age. There are cave paintings that show how seashells were used like tweezers to pluck hairs out.
The earliest razors were made of flint around 30,000BC. Flint fractures easily to give sharp edges, making it ideal for the job. It was not until around 3,000BC, with the emergence of metal work, that razors made from copper were introduced in Egypt and India.
Elaborate Razors
Razors became more elaborate and excavations of the Danish Mound Graves unearthed razors from between 1,500BC and 1,200BC. They were in leather carrying cases with embossed bronze blades and the handles were carved into horse head shapes.
By 500BC Roman men either had a live-in servant to shave them or started each day with a trip to a tonsor – or barber – to be shaved with a Roman razor called an iron novacila. These razors would corrode and become blunt quickly, so many customers were cut, yet despite the dangers Romans flocked to barber shops because they were such great centres for gossip and news.
Rich Greek businessman Publicus Ticinius Maenas brought professional barbers to Rome from Sicily in 300BC and this sparked a new shaving craze. These barbers used thin-bladed, iron razors that they sharpened using water and a whetstone.
Trendsetter Caesar
Julius Caesar started a new trend in 50BC. He had his facial hair plucked out every day using tweezers and Roman men followed his example.
Leap forward to 1770 and French barber Jean-Jacques Perret wrote La Pogonotomie, a book on the art of learning to shave. It offered advice on the use of different shaving equipment and products and was the first book to propose the idea of a safety razor. The Perret Razor was launched and had a wooden guard that held the blade in place. It did prevent users from cutting themselves too badly but was not entirely safe.
The production of straight steel razors began in Sheffield and these were in constant demand until the middle of the 1800s. In 1847, the first hoe razor was created by William Henson. It placed the blade perpendicular to the handle to provide more control and became an overnight success, changing forever the way men grip their razors.
Safety Razor
Victorian men started to use shaving lotions and soaps by the late 1800s, while in the United States, the Kampfe brothers produced a razor with a wire skin guard along one side of the blade's edge and filed a patent for the first safety razor.
American salesman King Camp Gillette came up with the idea for a disposable razor blade in 1895. It was not easy to engineer the blades, because cheap, thin steel was difficult to work and sharpen, but production began in 1903 and the following year he sold over 90,000 razors and over 120,000 blades.
You might also like...