Men's Hairstyles Through the Ages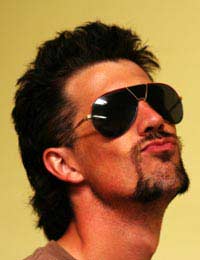 Historically, men's hairstyles have undergone less frequent and dramatic changes than those of women, yet numerous trends have seen significant transformations in men's hairstyles, particularly in the last few decades.
In early tribes barbers were the foremost men of their tribe and arranged marriages and baptized children. Primitive man believed that bad spirits entered the body through hairs on the head and during religious ceremonies the hair would hang loose over the shoulders so evil spirits could come out. After the ceremony the hair was cut by the barber and combed back tightly so evil spirits could not get in.
Many centuries before Christ, Egyptians shaved their heads and beards and Egyptian priests shaved their entire bodies every third day. As early as the fifth century BC, wise men in Athens would rival one another in the excellence of their beards. Barbers were leading citizens and beard trimming was an art.
Clean-Shaven Fashion
Beards went out of fashion in the third century BC after Alexander the Great's troops lost several battles to the Persians, who grabbed the Macedonians by their beards, pulled them to the ground and speared them. Alexander ordered all soldiers to be clean-shaven as a result and civilians followed the example of the soldiers.
Ticinius Mean introduced shaving to Rome in 296 BC and no people were better patrons of the barbers than the Romans, who would often devote hours each day to hair cutting, shaving, hairdressing, manicuring, massaging and the application of ointments and cosmetics. Beards came back into fashion when Hadrian became emperor. Hadrian's face was covered with scars and warts, so he grew a beard to hide these blemishes. Romans imitated the emperor and grew beards.
Orthodox Jews honour the beard as a badge of manhood. Ancient Jews would allow their beards to go untrimmed during periods of mourning, otherwise beards were trimmed regularly. Throughout the first centuries of the Christian era, each new conqueror changed the fashion according to his personal needs or whim. For instance, Charlemagne (King of the Franks from 768 and Emperor of the Romans from 800 until his death) made flowing, long hair the fashion.
Making Wigs
Wigs were the fashion during the 18th and part of the 19th century and so barbers became wigmakers. The profession lost its ancient dignity and barber shops became hangouts where men could exchange smutty stories and malicious gossip and women dared not enter.
Victorian men kept their hair very short and lathered in oil and sported sideburns, a moustache or a beard. Men's hairstyles were very simple in the 1920s, when short and neat was the norm and even a side parting was seen as an outrageous style statement. It was not until after the Second World War that men relaxed and began to wear their hair long or slicked back.
In the 1950s, James Dean and Elvis made long, heavy sideburns and quiffs fashionable, while shaggy hairstyles were prominent in the 1970s thanks to The Beatles and The Rolling Stones. In the 1980s, hairstyles were all about long fringes, bold highlights and flamboyant styling for the New Romantics, while Mods favoured minimalist styles. In the 21st century just about anything goes and men's hairstyles are becoming as varied and complicated as women's, with some layers short, some longer, sweeping fringes or hairbands.
Start A Barbers is sponsored by Purely Energy, who have funded a lot of our content. If you are looking for a low cost business energy supplier, take a look at their website.
START A BARBERS IS FOR SALE.
This website is for sale [more info].
You might also like...