Bad Employee Proved Costly Mistake: A Case Study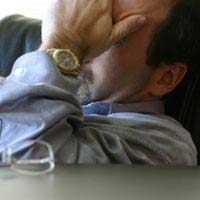 When Derek Jardine started to get more work than he could handle in his small Kent barber shop, he decided to employ an assistant. The 33-year-old admits he knew very little about employing staff, however, and the way he went about it almost cost him his business.
"I was pressed for time," said Derek. "The workload was getting on top of me and I needed help quickly to ease the burden. As a result, I made a snap decision and it backfired in a big way."
An advertisement in a local newspaper produced a huge response, with more than a dozen people showing an interest in the vacancy at Derek's shop. "I was very pleasantly surprised," admitted Derek. "I read through the applications and decided to give one of them a call. It was a young, local lad who had the experience I was looking for."
Casual Interview
"As far as I was concerned, the most important thing was that the new assistant could start straight away and ease some of the burden. I arranged an interview, which was really just a chat over a cup of coffee, and I got a good feeling about the guy."
"I suggested he could cut someone's hair to show me what he could do and he agreed. One of my regular customers was coerced into being the guinea pig in exchange for a free hair cut and everything went smoothly. It was clear the guy had the experience he claimed and would be able to do the job. As a result, I decided there and then to give him a chance and he started work the next week."
"Everything was fine initially. The customers liked him and he was good at his job. Unfortunately, even after just a few weeks I realised there was a problem. It seemed I was working just as hard as ever and my assistant was pretty busy too, yet at the end of the week the takings were no greater than they had been when I was working on my own."
Missing Cash
"By the time I had paid my new employee his wages, the business was worse off than it had been before he had arrived. With it being such a small business, I deal only in cash and it can be difficult to keep track of how much is coming in during the course of a busy working day. I knew my employee must have been stealing from the business, but - no matter how hard I tried - I was never able to catch him red-handed."
"Even though I knew what was happening, I had no concrete evidence and so felt unable to confront my employee. I spoke to a long-time customer who had once been a police officer, and he advised me against making accusations as this could lead to counter accusations, unfair dismissal claims and all sorts of unpleasantness that I am sure would have ended in the business being wound up."
Redundancy Pay
"In the end, I told the employee I would have to let him go because the business was not making enough money to justify me keeping him on. He demanded two months' pay as redundancy, even though he had only been there for a matter of weeks. It made me feel sick, but I paid it and it was worthwhile to get rid of him."
"The moral of the story is take care before employing someone. I'm sure that if I had checked out references and spoken to former employers, I wouldn't have landed my business in trouble."
You might also like...
Fantastic information about setting up a Barber's shop. Where can I find more info on setting up a Barber's shopas I have no experience in this field. Do you have a template for a business plan.
Favour
- 24-Oct-15 @ 10:14 PM