Barber Shop Refurbishment Boosted Business: Case Study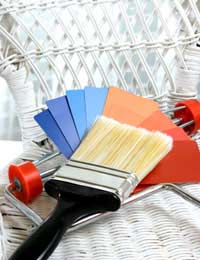 Refurbishing a barber shop can be an expensive business. It can cost thousands of pounds for new fixtures and fittings and quality flooring does not come cheap either. Then there's the décor and perhaps new signage.
It all adds up and the likelihood is that the business will have to close while the refurbishment is carried out, costing the barber even more. That is why so many barbers rule out a shop refurbishment and carry on trading despite the tired, old look of the premises. Sometimes, however, a new look can give a barber shop business a boost.
Glasgow barber Willie Paterson admits he put off refurbishing his barber shop because of the cost. "It had been needing done for quite a while," said the 42-year-old. "I'd been in the place for over six years and it was looking a bit tatty to say the least."
Bit Shabby
"It's a busy shop, but it's always kept clean. We've a cleaner that comes in every night and she does a grand job, but after so long it starts to look a wee bit shabby no matter how clean it is. I realised the shop needed to be freshened up, but I was worried about how much it was going to cost me."
Mr Paterson considered cheaper options. He said: "I thought about giving the place another lick of paint and replacing the flooring." However, having weighed up his options, he decided to close the business for a week and give the premises a full refurbishment.
"We have four cutters, so it's not a massive shop but it's not the smallest either," said Mr Paterson. "I decided to go for an entirely new look and replaced the workstations, sinks, barber chairs, furniture and shop signage. The décor was kept fairly traditional, but with what I'd call a modern twist, and everything was stripped back and painted – inside and out."
Shop Closed
"The cost ran into thousands of pounds and I had to close the shop for a week. In a way, that was the really tough part, because the shop had never been closed since I moved in. Even when I was away on holiday, I had a manager who stepped in to take over, so it had always been a 52-week-a-year business."
It proved worthwhile in the end, however, as Mr Paterson was delighted with the shop's new look. "It gave me and the other cutters a real lift," he said. "Coming in to work in the morning and having a bright, fresh workplace put a smile on our faces. We're really proud of the place now."
New Customers
There was another bonus too, as Mr Paterson revealed. "We attracted new customers," he said. "Younger, trendier types, I suppose, who were impressed with the new look. None of our regular customers were put off, so it was a win-win for us and the takings are up."
"My advice to anyone considering a shop refurbishment is don't be put off by the cost and go for it. The chances are you could get the money back by giving the business a boost and even if you don't you'll have the feel-good factor of working in a sparkling new shop."
You might also like...
Hi I'm in a similar situation but to be honest I'm quite anxious about refurbishing my barber shop.I want to do it end of may on the bank holiday but not sure how to go about it. Any advice would be greatly appreciated.
Hurgz
- 27-Apr-16 @ 7:31 AM