How I Saw Off a Rival Barber Shop: A Case Study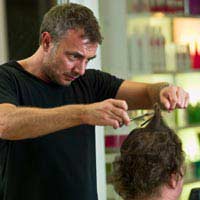 Business was booming for Wigan barber Craig Stennett until a rival opened a barber shop only four doors down the street. Suddenly the 31-year-old found his livelihood under threat and he was forced to react in order to save his business.
"I had been working in barber shops for almost 10 years before I decided to take the plunge and open my own shop," said Craig. "With that experience behind me, I knew what was needed to make a barber shop succeed and I had been able to save a bit of money to get the business off the ground."
"It had taken me around six months to find vacant premises in the ideal spot, but it was worth the wait. Location is very important in my opinion and my shop is in a busy area. There were no other barber shops nearby and the business took off really well. I was making good money almost straight away."
Income Dropped
The shop was just about to celebrate its first anniversary when another barber opened for business on the same street. "My income dropped quite dramatically straight away," admitted Craig. "I had plenty of loyal customers, but my rival had undercut my prices and started to pick up a lot of the passing trade."
"If I had kept plodding along I may have been able to scrape by, but I have a wife and three children to support so I decided to fight my corner," said Craig. "I dropped my prices, not just to match his but to undercut them. It led to a bit of a price war and the only real winners were the customers, who were getting haircuts for practically nothing."
"It meant I was very busy again. There were loads of customers filing through the door, but because the prices were so low I was working extremely hard for very little return."
Rock-Bottom Prices
Craig knew he could not afford to keep the rock-bottom prices indefinitely. "I had managed to save a bit during the first year of trading and my bank manager was very helpful," said Craig. "Even so, after a couple of months I was starting to feel the pinch."
"Importantly, I felt I was offering a better service than my rival, so I knew that if I matched his prices my haircuts were better value for money. Some of the customers who had drifted away started to come back through my door, complaining about the haircuts they had got at the rival shop."
Business Booming Again
Eventually the competition proved too tough for his rival, who was forced to close his shop. "I raised a glass with my staff that day," said Craig. "Prices were increased gradually and now business is booming again."
"Looking back, I have learned a lot from the experience. The main lesson is to not take anything for granted, because a rival business can open up anywhere at any time. It is important to be ready and to react quickly. Also, I now have an emergency fund available so that I am able to cope should the unexpected happen."
You might also like...