Basic Hair Care Tips for Men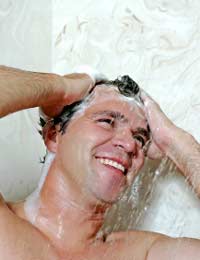 Maintaining a healthy looking head of hair has as much to do with damage limitation as anything else. A regular haircut helps, of course, as once hair has been damaged the only real way to repair it is to cut off the damaged length. A barber should not be slow to point out the benefits of a frequent trim to his customers. Getting hair cut regularly helps eliminate split ends and even men keen to grow their hair should get a trim every six weeks or so to eliminate the damage.
There is advice a barber can pass on to customers keen to take better care of their hair between visits. Using a good shampoo and conditioner will not only keep hair clean, but add moisture, elasticity and shine.
Healthy Living Equals Healthy Hair
Men who take good care of themselves by eating healthily and drinking plenty of water, exercising, getting enough sleep and reducing stress levels will be rewarded with a healthier scalp and good looking hair. Hair is not alive and has no reparative qualities, but the hair's condition is often a reflection of the overall health of the person. A healthy lifestyle will increase the rate of hair growth too.
Steps can be taken to reduce the damage caused to hair. One of the biggest culprits is towel drying. Hair is highly susceptible to damage when wet and rubbing it with a towel can stretch it to breaking point, damaging the hair's outer layer – called the cuticle – and causing split ends and frizziness. To towel dry hair carefully, first shake out any excess water and then stroke the hair in the direction it grows.
Excessive blow drying is another common cause of damage, as it can dry out the hair and scalp. Before blow drying, it is best to first protect the hair with a coating of detangler or thermal styling spray. Always leave the hair slightly damp and use a wide-tooth comb to prevent pulling.
Take Care With Chemicals
Chemical treatments can leave hair dry and damaged. If a barber does not offer colouring or perming services, he should advise customers to find a good stylist rather than persevere with at-home chemical products. A trained professional will know how to prepare the hair properly and can choose the best products for the type of hair. Also, there is a good chance the results produced by the stylist will look more natural than those produced at home.
Very hot water can strip essential oil from the hair and scalp and lead to dryness, so turn down the temperature when washing hair and try not to use a brush on hair when it is wet and at its most vulnerable. Instead, use a wide-toothed comb on wet hair to work out tangles gently. If hair is frizzy, it can be the result of low protein and moisture in the hair. This problem can be minimised by using a good moisturising conditioner.
A ponytail or tight hat can cause hair to be pulled out of the scalp and, if worn long enough, the damage can become permanent. It can also damage the cuticle and lead to breakage.
You might also like...