Good Shaving Technique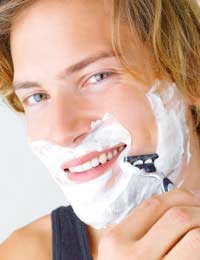 Most men do not give shaving much thought. It is considered a daily chore that has to be completed as quickly as possible. This is unfortunate, as a good shave can be beneficial. It exfoliates the skin, removing the dead skin cells, and allows the skin to breathe. On the other hand, bad shaving technique can result in dry skin, razor burns and razor rash.
Needless to say, barber shop staff should be familiar with good shaving technique. Some barber shops will offer shaving services, but even those that don't should be able to offer advice on shaving to customers.
It's best to shave after a shower or wash. Hot water will help to prepare the beard and open the pores. A wet shave with a blade will give a closer shave than an electric razor and the result will last longer. It's not just a case of applying shaving foam, using a razor and then splashing the face with water, however.
Shave Before Breakfast
Shave in the morning before breakfast, because once the digestive system is activated the skin will become more sensitive. First wash the face with either a granular, exfoliating facewash or a mild soap. This helps to remove dead cells and lifts the facial hair into an upright position.
Shaving cream can be applied with or without a shaving brush, but the rotary movement of a brush can make the hairs stand up. Top class shaving brushes are made from badger hair, which is tough, pliable and has unique water-retaining qualities.
If looked after properly, a good-quality brush will last for years. It should be rinsed and shaken to remove excess water and stored on a stand with the hair pointing down. This prevents any moisture getting into the handle of the brush and so extends its life. Do not leave the brush in a closed cupboard but an open environment.
Against The Grain
To achieve the best results, build up a rich lather with a brush and apply to the skin in a circular motion against the grain of the beard. It is better to apply the lather to one area of the face at a time, rather than all over the beard area of the face, as this will prevent the skin from drying out.
Use a sharp, clean, safety razor and shave gently by gliding the razor in the direction of the hair growth. This will produce a closer shave in time, so do not be tempted to go against the growth, which can result in razor burn. Hold the skin taut while shaving and don't press too hard with the razor. Use short, even strokes and keep the blade free of hair by rinsing the blade in hot water after each stroke.
When finished shaving, splash the face with cold water to close the pores. If there are any cuts or nicks, use a styptic pencil to stop the blood. Finally, pat the skin dry with a clean towel and apply a good moisturiser.
Start A Barbers is sponsored by Purely Energy, who have funded a lot of our content. If you are looking for a low cost business energy supplier, take a look at their website.
START A BARBERS IS FOR SALE.
This website is for sale [more info].
You might also like...