Questionnaire: Can You Find the Perfect Location?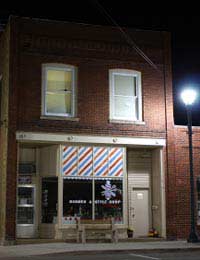 A barber shop relies heavily on passing trade, so the location is of vital importance. The main priority is finding a business location that will guarantee a steady stream of customers through the door. Try our questionnaire to discover if you have what it takes to find the ideal location for a barber shop.
Question 1: A derelict-looking shop is available to let in a residential location and a quick telephone call reveals that the rent is very affordable. What should you do?
a) Sign a deal as soon as possible before it is snapped up by someone else.
b) Get a quote for refitting the shop before committing.
c) Do some market research to find out how many potential customers pass the shop.
d) Look elsewhere.
Question 2: A shop is available to buy in an area dominated by office buildings. It looks good, but the area is deserted on the Saturday you visit. What should you do?
a) Look elsewhere because Saturday is traditionally a very busy day for barber shops.
b) Come back next Saturday and see if it is any busier.
c) Take a look at the shop location during the week.
d) Put a bid in for the shop and hope the area gets busier.
Question 3: A prime city centre location has become available and the only barber shop nearby is charging a fortune for a haircut. What should you do?
a) Make a move and undercut the rival barber.
b) Walk away because the overheads will be too expensive.
c) Ask shoppers if they would welcome another barber shop in the area.
d) Do plenty of market research and make sure the figures add up before making a move.
Question 4: An affordable shop has become available in a busy part of town, and the two barber shops nearby look very busy. What should you do?
a) Keep looking because the competition looks too fierce here.
b) Look at the prices charged by the competition. Maybe you could charge less and steal customers.
c) Make a move and fight it out with the rival barber shops.
d) Count the customers waiting for a haircut at the busy shops. Maybe there are enough customers for three barber shops to survive.
Question 5 : A former barber shop has become available in a busy street and all market research suggests it should be a success. What should you do?
a) Leave it for someone else because it has already been a barber shop and failed.
b) Give it a lick of paint and move in – you're ready to go.
c) Show your market research findings to family and friends and get their views.
d) Find the previous occupant and ask what went wrong.
Answers
1 d) A residential location is no good for a business that relies so heavily on passing trade.
2 c) Offices that are closed for the weekend will be crammed with potential customers during the week, so take another look during the week.
3 b) Prime city centre locations are too expensive for a small start-up business, so be realistic and minimise the risks.
4 a) Moving into an area with two successful, well-established competitors is extremely risky for a start-up barber shop.
5 b) The premises are already fitted out as a barber shop, so trust your market research and make a move.
You might also like...