Buying a Barber Shop Franchise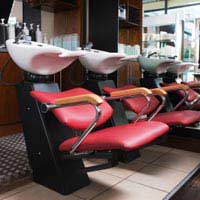 Those with a sizeable amount of money available to launch their barber shop may want to consider a franchise. The benefits are considerable. There will be a wealth of expertise and support on hand to ensure the business runs professionally and smoothly, and the shop will get a great kick-start by working under a successful, strong brand with a proven business formula.
All of this comes at a cost, however. The franchise fee is likely to be in excess of £10,000, with management service fees on top at around 10 per cent of gross turnover. It may be possible, depending on the size and location of the shop, to get a barber shop franchise off the ground with as little as £36,000. The total cost is likely to fall between £80,000 and £100,000 - with the rest of the investment coming from bank loans - so clearly the franchise option is not for everyone.
Training and Support
There is no need for any barbering, hairdressing or industry experience, as the franchise team will provide comprehensive training and support in all areas of the business, including assistance with staff recruitment. Proven marketing techniques will help the franchise team recruit the stylists and support staff needed to run the business.
The support plan will be tailored to an individual's needs depending on whether or not the franchisee is a barber/hairdresser. Start-up and on-going support are key benefits of a franchise and an experienced team will deliver an extensive training programme aimed at providing the knowledge and confidence needed to run the business, from writing a business plan to marketing and staff recruitment. Also, by communicating with existing franchisees, it is possible to share knowledge and benefit from other people's experiences – options not so readily available to those who go it alone with a business start-up.
Store Design
Of course, the store design is a key element of a franchise. By using top quality materials at an affordable price it can lead to a striking store layout designed with clients in mind. Also, a franchise may allow access to top male product ranges at low prices.
Anyone keen on a franchise must take a very close look at the brand and corporate identity, as their business and the profile of the franchise company will be inextricably intertwined. A leading brand will have a dedicated marketing department working hard to maintain brand integrity, working with design agencies and industry contacts to produce innovative marketing campaigns that will benefit the franchisee.
Unique Brand
The brand must be unique and well established. How the brand is perceived by clients is crucial and customers will know exactly what to expect when they step into a franchisee's barber shop. Look for the franchise to have a strong internet presence and a magazine.
Find out what plans the franchise has to launch the shop, what public relations support and advice will be available and what marketing tools and promotions are used to attract customers and keep them. The brand and marketing strategies should be constantly evolving to ensure the business stays ahead of the competition.
Of course, there is an element of risk with any new business and being part of a franchise does not eliminate this risk. Nevertheless, the franchise will be committed to making the franchisee's business a success and the experienced business support gained from working within a franchised business may tip the scales in your favour.
You might also like...
Hi I wish to open a barbershop but I do not have the funds . I am looking foe help with the funding . How do i go about doing this .
Hi I am looking to open a barbershop but I don't have the funds to do so .So i am looking for funds.How do i go about doing that Away from bank loans .
Db
- 23-Feb-18 @ 12:58 PM
we are looking to set up a new Barbers shop in our new proposedcompound our location is North RiyadhKSA. Can you point us in the right direction for installing the shop with all appliances many thanks . look forward to your swift response. thanks again
Archie
- 20-Mar-14 @ 9:57 AM