Facilities for Staff and customers in a Barber Shop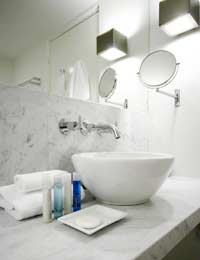 Difficult decisions have to be made when opening a barber shop on a limited budget. One of those is whether to spend more on customer facilities or staff facilities. The truth is that both customers and employees will have to be well catered for if the business is to be a success.
Obviously the barber shop must have all the facilities necessary to deliver services to its customers, such as a barber chair, mirror and at least one wash unit. There should be a waiting area for customers too, and this is where the barber shop can set itself apart from its rivals.
As the intention is to have a busy barber shop, it has to be hoped that there will be a steady stream of customers coming through the front door. If this is the case, it will not always be possible to provide haircuts or beard trims for customers straight away, so it makes good business sense to keep these customers happy by offering a comfortable waiting area.
Entertain Waiting Customers
Many barber shops have little more than a pile of old, dog-eared magazines to amuse waiting customers, but there are plenty of other ways to entertain in today's high-tech world. Gadgets such as mp3 players or hand-held video games can keep customers amused, or offer Internet access. Also think about offering refreshments such as tea and coffee and, at the very least, make sure the magazines are up to date.
The customer toilet and washing facilities should be kept spotlessly clean and be accessible to disabled people and, of course, the premises must be smoke free. It may be possible to provide an outside area where customers and employees can smoke.
On the face of it, the customer facilities may seem more important that those for staff. After all, the customer comes first. However, if the barber shop wants to recruit and retain the best staff available, it has to provide top-quality facilities for employees too.
Avoid Frayed Tempers
Cramped working conditions can lead to frayed tempers, so although there may be a temptation to squeeze as many work stations as possible into the barber shop, resist and try to ensure there is enough space to allow the cutters to provide the services on offer in comfort. Make sure there are plenty of electrical sockets to recharge clippers and power hairdryers.
Employees need a seated area where they can eat and must have access to drinking water and hot drinks. If there are lots of food outlets nearby, employees may prefer to eat out, but the kitchen area should still include a microwave, fridge and sink. If the eating out options are limited and space allows, consider adding an oven and hob.
A rest area, separate from the kitchen, will be appreciated by employees, although it is not always possible to provide in smaller premises. Try to make storage areas available to staff and perhaps even lockers, especially if the barber shop employs freelance cutters who have their own equipment.
You might also like...