How to Deal With a Difficult Customer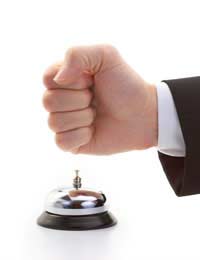 Few barbers can please all of their customers all of the time, so occasionally a barber will have to deal with an unhappy or difficult customer. Most problems arise when a customer is less than pleased with the quality of his haircut. Other potential grievances include the price of the haircut or the time a customer has to wait for his haircut.
There is, of course, only so much a barber can do if a customer is unhappy with his haircut. The first course of action should be to offer to cut the customer's hair again in order to resolve the problem, but if the complaint is that his hair has been cut too short, the only course of action is to wait for it to grow back.
The best way to sidestep such potential flashpoints is to ask the customer exactly he wants at the outset, but not all customers will be happy, even if their instructions have been followed to the letter.
Money Back
Whether or not the problem can be resolved in a satisfactory matter, the barber shop should not charge the customer. Only if a customer's complaint is extremely unjust should a barber shop consider charging – it is far better to take it on the chin and put it down to experience. Indeed, if the customer's complaint is fully justified, he should also be given the chance to return for a free haircut at a later date.
Make sure prices are displayed clearly and point these out to new customers. This should prevent gripes when the time comes for the customer to pay his bill.
If the shop is particularly busy, make sure customers know how long they can expect to wait for their haircut. Most will stay and wait for their turn, but some may choose to come back at a later date. Of course, some customers may take their business elsewhere rather than wait, but even this is a more desirable outcome than having a row with a disgruntled customer in a busy shop.
Don't Rise to Bait
If all preemptive action fails and a customer decides to have a rant, it is important that the barber does not let it get to them. When a customer gets emotional he may make some rather disparaging remarks, but it is crucial that the barber does not rise to the bait. Try to stay out of it emotionally and do not get defensive.
Listen to the customer and try to sound and look as if you are listening. The customer wants to know that you care about his problem and are interested in dealing with it. Apologise – whether or not you feel an apology is fully justified – and make it sound genuine. Try to build a rapport with the customer and empathise with him.
Things go wrong in the real world and mistakes are made. Right-minded customers accept this and will often judge a business on how it responds to these mistakes. Do it well and most customers will forgive you and some may even leave the barber shop feeling positive about your business.
You might also like...
@melozy - as long as you have the finances in place that allows you to do this, then you can employ someone to do the work.
Kaz
- 17-Mar-15 @ 11:23 AM
please what if i don't have idea of barbing and employ someone who has the idea?
melozy
- 14-Mar-15 @ 8:21 AM